List Of Compatible Google Smart Locks
Compatible Google Smart Locks
The security standards of every home and office depend on the quality of door locks. Fortunately, we now have the luxury of smart locks with some amazing features. Smart locks have become a necessity for every modern home since they offer unparalleled convenience and top security. You can operate smart locks with your smartphone from any place, anytime. Several Google smart locks are available in the market that you can buy for your home.
Today, we will let you know the best smart looks available for Google home. You can go through this list to know the right smart lock for your home.
Top Google Smart Locks to Buy In 2021
Installation of modern smart locks is straightforward and they offer top-notch security and convenient controls. You will receive an instant notification when the door unlocks, which is a top security feature.
Some models also come with wireless speaker connectivity for convenience. You can give smart lock access to your family members, guests, or friends to the home. Take a look at the following Google smart locks that you can trust.
The Next x Yale Lock with Nest Connect works remotely from anywhere using Google Assistant. You can beautifully tie this smart lock with any Nest device with features, such as disabling the Nest alarm after coming back home.
The best part about this smart lock is that it automatically unlocks with a smartphone. There is also a sleek keypad that you can use as a backup unlocking option. The price of this lock is $328.98.
The August Smart Lock is a third-generation Google smart lock that you can count on. There is a deadbolt switch on the front side of the lock that you can operate from inside to lock and unlock the door manually. Moreover, the smart lock functions automatically using a smartphone, which is the big deal.
There is one thing that you need to keep in mind when buying this lock. You also need to get the 'August Connect Bridge' if you want to use Assistant commands. You can buy this smart lock for $93.36.
This smart lock offers multiple methods to unlock or lock your door instantly. You can use the smart lock app to remotely lock/unlock the door or enter the passcode on your phone.
Other available options are fingerprint unlock RFID card unlock, and mechanical key. This smart lock comes with a luxury design, high-end AI learning, and easy installation. It is a high-quality aluminum lock that you can buy for $139.99 only.
Schlage is a top brand and has been manufacturing security products for more than 10 decades. Therefore, they are the most reliable manufacturers of Google smart locks. The Schlage Sense Smart Deadbolt Smart Lock is a classic smart lock that you can lock and unlock wirelessly from your smartphone.
From the inside, you can operate this lock using a passcode or a key. Therefore, there are multiple ways you can unlock or lock this smart lock. To use Google Assistant functionality, you need to have a Wi-Fi Adapter. This smart lock costs $154.99.
It is another keyless entry smart lock that you can count on. You can secure your home with convenience by installing this smart lock on your front door. The user-friendly configuration, automatic locking, stable structure, and easy installation make this smart lock a great choice for homeowners.
There are five keyless entryways available in this smart lock. These include fingerprint, emergency key, RFID card, mobile app, and passcode. The fingerprint access of this smart lock is very intelligent as it takes less than 0.3 seconds to function. This lock is available for $199.99.
Are you looking for an easy installation smart lock with great smart features? If yes, then the Candy House Sesame (Gen 2) is one of the best Google smart locks to buy. You don't need to replace your old single-turn lock since you can fix this smart lock on it easily.
Therefore, the installation and removal of this lock become easy without using any tools. Moreover, you can pair this smart lock with Wi-Fi and connect with Google Assistant to remotely operate the lock. The smart lock also comes with a voice control feature. The cost of this smart lock is just $149.99.
This smart lock is best for indoor security and a unique product in the market. You can use this smart lock as both interior and entry door locks. The conventional lever design of this smart lock makes it a unique product in the smart lock market.
Apart from the physical knob, you can lock and unlock using the touchscreen number pad of the smart lock. Before you buy this smart lock, you must know that there is no deadbolt in this smart lock. You can purchase this lock for $293 on Amazon.
Do you need maximum security to protect your house from unauthorized access? If yes, then the August Wi-Fi Smart Lock is a high-end fourth-generation smart lock that you can trust.
It is one of the latest smart locks available on the market with Wi-Fi connectivity that requires no additional Connect Hub. Other key features of this lock include luxury circular housing, easy installation, and support for Alexa and HomeKit. You need to spend $196.13 to get this smart lock.
Final Words
All Google smart locks we discussed above provide unparalleled security and convenience to homeowners. They all provide you several ways to lock and unlock your door lock remotely using a smartphone. However, you need to choose one that looks the best according to the budget and features you need.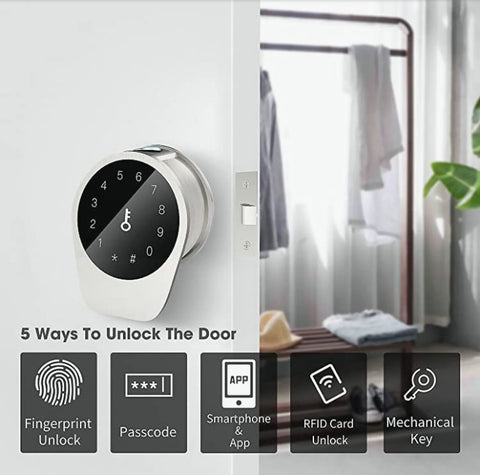 Therefore, we recommend you to compare their features and see price differences to get the most reliable smart to secure your house. You must invest in high-quality door locks as we discussed above because it is a matter of your home security.